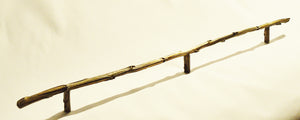 Modern Objects, Inc.
Cottonwood Pull 30 Inches
Regular price
$160.00
$0.00
The Cottonwood Pull 30 Inches is a unique cabinet & drawer pull, which is cast in solid pewter with solid brass threaded inserts and screws included. Dimensions (approx. due to very slight variations during the casting process): Length 29 in.; Width 0.75 in.; Projection off surface 2.5 in. This Large Pull is not suitable for all applications. We will not guarantee for use on appliances, heavy doors or any other application requiring substantial force or support. Finishes may vary due to surface details. Exclusively produced in the U.S.A.
Antique Brass: oxidized brass is relieved to expose the brass highlights
Antique Pewter: natural oxidized pewter is relieved to bring out the pewter highlights
Polished Pewter: subtly oxidized pewter is polished to bring out a nickel-like shiny finish
The Cottonwood Pull 30 Inches #2457 is from the Modern Objects Branch, Twig & Bark Collection, which has been inspired by our passion for the majesty of trees and the exquisite texture of their bark. Whether it's hiking vine tangled woods, walking down a lovely tree-lined street or sitting in a city park, trees enhance our lives every day.
---
More from this collection